Micellar Water: Everything You Need to Know
Meet your skin's new best friend… Not only does micellar water effectively remove makeup and grime, it also makes your skin healthier…
We've got a few months to go until Halloween is upon us, but here's a scary (and true) story to hold you over until then: For most of my late teens and early 20s, I took my makeup off every single night with an exfoliating scrub. The horror! After washing my face with whatever soap was nearby, I squirted some harsh, seed-based exfoliant into my hands and went to town. You see, I assumed that because the scrub promised to remove layers of dead skin, it would also remove layers of dirt, grime and makeup.
But aside from the fact that this was definitely terrible for my skin (exfoliating every day is less-than-ideal, especially if you've got reactive skin like me and especially if you're doing it with something as abrasive as the stuff I was using), it also didn't really do a great job of cleaning. Because after "taking my makeup off" with the scrub, I'd then swipe a cotton pad doused in also-too-harsh toner over my face and it always came away with traces of the dirt and makeup the scrub had failed to remove. So not only was I seriously hurting my skin on a daily basis with abrasive, harsh cleansing tactics, I was barely getting it clean.
Blame it on my youth and inexperience, but I'm embarrassed to admit I continued this practice for many, many years before I got wise. I started slowly, first with makeup remover wipes before finally landing on my favorite pre-bed routine of double cleansing. Once I learned the right way to take makeup off my face, my skin got much happier. Not only could it actually breathe at the end of the day (since it wasn't clogged up with leftover concealer), it was also ready to drink up all the fancy, good-for-me product I was lovingly layering on to it and I wasn't stripping it of moisture daily.
And while I will never not sing the praises of the double cleanse, it can be a bit of slog sometimes. Those nights when I get home late and just want to fall into bed without spending 20 minutes standing in front of my sink, or the times I only have a few minutes to cleanse and re-apply before I'm heinously late for something…a full double cleanse isn't an option.
So imagine my delight when I "discovered" micellar water, the long-time secret of beautiful French women everywhere. Lazy? Tired? Rushed? Francophile? Meet your skin's new best friend. Not only does micellar water effectively remove makeup and grime, it also makes your skin healthier, a feat that normally takes a bevy of products to achieve.
All right, so, how does this miracle liquid work?
Science! While it may look like plain old water and have a name that contains the word "water," its moniker is a bit misleading. Yes, it's clear liquid but it's so much more than your average H2O. The liquid is made up of microscopic oil molecules called micelles that are suspended in soft water. (Soft water just means it's been purified and is free of mineral deposits and other stuff that can find its way into a water supply.) And if you're familiar with my beloved oil cleanse method, you know that oil molecules and dirt, grime and makeup go together like flower crowns and outdoor musical festivals: As you apply the micellar water to your skin, those teeny, tiny oil molecules latch onto the bad stuff lurking in and on your skin and dissolve it away. Poof! Makeup and dirt gone.
Unlike makeup wipes (which are great in a pinch but should always be followed up by a full cleanse), micellar water wipes off completely with a cotton pad. While wipes often push makeup and dirt around without lifting it, micellar water dissolves the stuff on your skin, deposits its hydrating ingredients and then wipes right off without a trace. And unlike toner, which often contains alcohol, its super-gentle so you can use it all over — even near your eyes — without worrying about stinging or drying. Basically, it's a cleanser, makeup remover and moisturizer all in one.
There is a bit of a learning curve with micellar water, though, and it's twofold. Firstly, there's no foaming, so it doesn't look or feel like the cleansing you may be used to. But this also means it's not stripping your skin of the natural, good oil it needs to stay balanced and hydrated. Second, despite its name, there's no actual water necessary in the process. In fact, you're not even supposed to rinse it off after you use it or you risk washing away soothing, decongesting, skin-perfecting ingredients it has left behind. Both of these things may take some getting used to if you to like to recreate that whole splashing-water-on-your-face-like-the-slow-mo-scene-in-skincare-commercials thing. But trust me, it's worth the initial weirdness.
What's more, if you live in an area with particularly harsh tap water, micellar water is a godsend. Like I said earlier, plain ol' tap water often plays host to minerals and trace chemicals that can mess with your skin by affecting its pH balance. If your faucet or shower head gets that white, powdery residue or green patina, you're the victim of hard water. It's like when you visit a new city and swear the texture of your hair has changed. That's the new water and how its interacting with your strands. The same goes for skin. And since micellar water doesn't require you to use actual water, you're protecting your super-delicate facial skin from all the stuff lurking in the water supply. In fact, this stuff is so popular in France because they have notoriously harsh water and French women just could not deal with the tres tragique conditions.
But once you're beyond the whole no water, no suds thing, it's pretty fantastic, especially if you have dry or sensitive skin. No chemicals, no moisture-stripping foam, no stinging or abrasiveness…get thee some micelles! Then go smear some brie onto a baguette — you deserve it.
What to try: For a deep cleanse and supremely soothed skin, try Alba 1913's Galenic Cleansing Water. It gently removes makeup, dirt and pollutants without the need of water, and it contains ingredients like hyaluronic acid and rhubarb extract to keep skin plump and moisturized.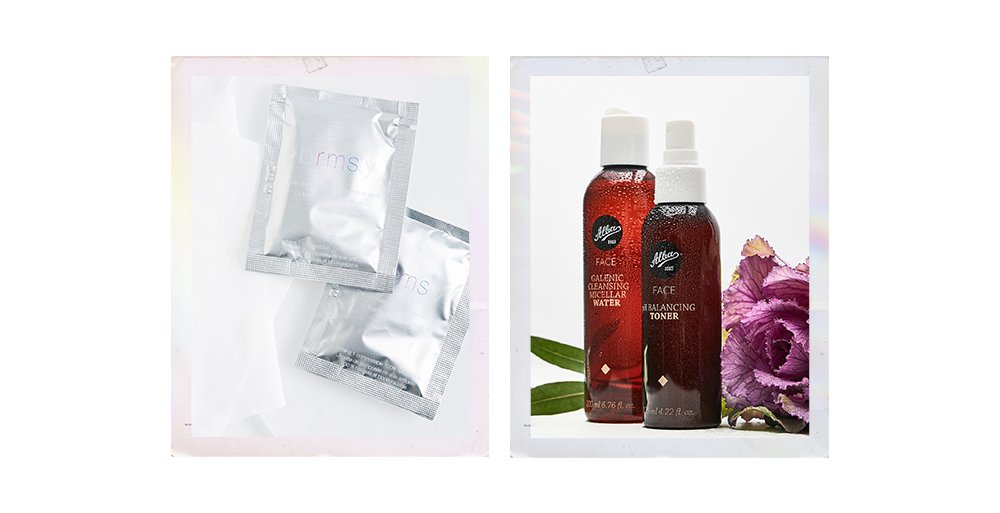 +Want to learn more from Allie? Check out these articles here!
Photo by Jana Kirn.