DIY Beach Waves: Rahua's Enchanted Salt Spray
There's more to this tousled texturizer than meets the eye…
Who can resist that feel-good thrill of a must-have vanity purchase that comes with a side of philanthropy? Rahua's dreamy founders, Anna Ayers and Fabian Lliguin, made it nearly impossible after the two were moved on their romantic honeymoon in the Galapagos Islands by a striking flock of endangered pink flamingos. Inspired to create an ecoconscious beauty product that could help their exotic plight, Anna and Fabian created Rahua's Enchanted Island Sea Salt Spray, donating a portion of its proceeds to an environmental clean-up effort for the birds' natural habitats, The Pink Flamingos Project.
The organic, vegan and cruelty-free spray mixes ingredients inspired by the island's natural offerings like pink sea salt (for gritty texture), hibiscus extract (for shine and strength), and guayaba sugar (for a moisturizing finish), creating a formulation that has stylists swooning over its tousled, touchable results. "I love this product because it offers a light hydrating salt spray with sheer coverage and slight hold," says Honey Artist Michael Thomas Lollo, who's styled editorial looks for industry powerhouses from Victoria's Secret to Oscar de la Renta. "Unlike other products that leave the hair dry and stiff with salty product buildup, Rahua's gives you perfect beachy texture and soft touchable finish." Alex Efstratiou, stylist and educator at New York's ultra-modern Arrojo Salon loves it for its blowout-transforming powers. "In New York City, a lot of women get blowouts on a regular basis from salons and blowdry bars in the summertime, and sea salt spray can be a real savior for adding more texture into hair that has been slept and sweated on with intense humidity." Any secret to squeezing one more day out of a trip to the salon is one worth sharing.
Below, Alex and Michael impart three simple tricks for mastering DIY beach waves using Rahua's Enchanted Island Sea Salt Spray, no sand required:
DIY Option 1: Michael's Wet-to-Dry Twist vs. Braid Technique
Start with damp hair, whether it's clean from the shower or you just hopped out of the pool or ocean.
Spray Rahua's Enchanted Island Sea Salt Spray all over your hair. Make sure you get full coverage, but remember with these products, less is more.
Focusing around the face, take small random sections and twist clockwise or counterclockwise, this will help enhance your natural curl or wave pattern.
If you have straight hair, instead of twisting sections, try loose simple braids.
Allow to air dry in the sun, or quickly rough dry with a blow dryer.
Once dry, use your hands, which are the best tools you'll find, and shake it out! You'll be summer ready in no time whether you're on the beach or trapped in the city on your way to work.
DIY Option 2: Alex's Tousled (and Tool-Free) Morning Commuter Hack
To make the most of your blowout and transition from smooth to beachy texture, I'd suggest separating the hair into two sections from the natural parting in the front, all the way to the nape through the center back.
Dampen hair with Rahua's Sea Salt Spray and make a tight coil of the two sections (tension is important here because if the buns are too loose, the hair will dry with frizz).
Wrap the hair into two low buns and let them air dry on your morning commute.
Once hair is dry—which should only take about 15 minutes in the summer heat since your starting on dry hair—take out the buns.
Starting at the nape of the neck, massage the scalp to start breaking up the waves and eliminating the parting through the center back, eventually all the way through the ends of the hair. (The key here is to start at the root so that there is a natural amount of volume retained in the hair, and it doesn't end up flat.)
DIY Option 3: Michael's 15 Minute Heat Waves
Starting with dry hair, spray Rahua's Enchanted Island Sea Salt Spray all over (remember less is more) focusing more on the mid shaft to the ends of your hair. Your roots don't really need too much attention.
Once you've applied the salt spray, quickly rough dry, using your hands to help scrunch sections enhancing your natural curl or wave pattern.
Take small sections of hair and wrap once or twice around the curling iron or wand, leaving the ends out. The hair should only be wrapped around the iron quickly, for 10-15 seconds, as you are just looking for a bend in the hair, not a full curl. This will help ensure that your beachy texture will last all day or night.
Shake out your hair and break up the waves and apply a few more sprays of Rahua's Enchanted Island Sea Salt Spray and allow to air dry. You'll look like you just got back from the Hamptons in under 15 mins!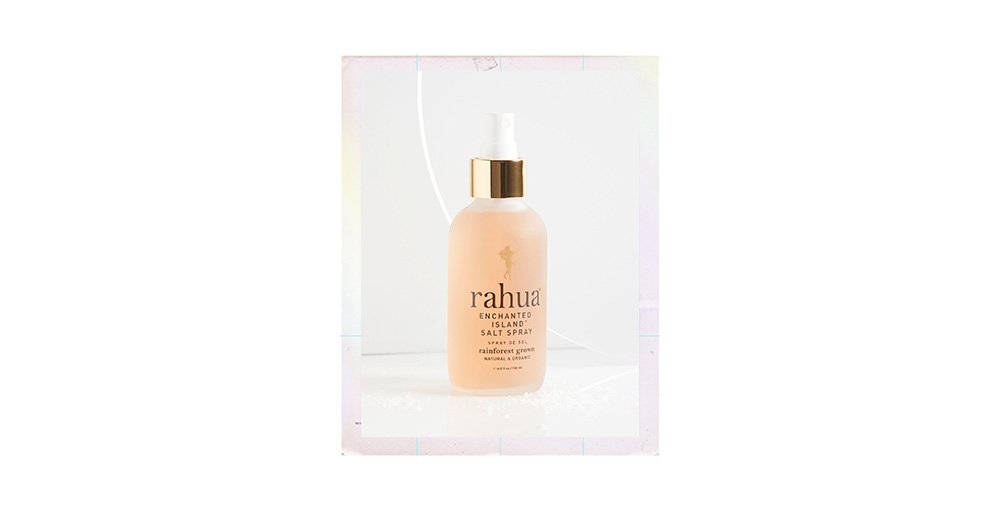 + What DIY option is your favorite? Also, be sure to check out Rahua's full beauty line here!