Meet The Founder: Ashley Prange, Au Naturale
Sharing with us how she swapped studying nuclear particles for cosmetic nanoparticles…
This post comes to you from contributor Natalie Shukur.
Ashley Prange's career trajectory is wonderfully unconventional. From nuclear analyst to clean cosmetics pioneer, the surprising switch came from a very personal place. Living next door to a beauty boutique in Washington D.C., Prange was always trying out the latest in cosmetics. Suffering from breakouts and irritation, she gravitated towards the cleanest products but found that her skin was still reacting to them. "So I did my research," she says. "When I realized that there were still synthetics in the 'natural' brands I was using, I took to my kitchen and experimented until I'd created makeup that was truly healthy. That's when it hit me that there was a tremendous gap in the market and I decided I wanted to be the one to fill it." Enter Au Naturale, a comprehensive makeup line that ticks all of the boxes: organic, vegan, non-toxic, gluten-free and PETA-certified cruelty-free. Here, Prange shares how she swapped studying nuclear particles for cosmetic nanoparticles in a bid to revolutionize the beauty industry.
Does your background as a nuclear analyst inform what you do now?
Yes. Especially when it comes to the purity of the product. As a former regulator, I care about supply chain, and that's driven the desire to formulate the way we do. Having had experience in the political realm has also been incredibly helpful in starting the Clean Beauty Revolution.
The natural cosmetic market is growing rapidly. What makes Au Naturale different?
People have referred to us as the "unicorn" of natural beauty. Not only are we vegan, cruelty-free, synthetic-free and handcrafted regularly, but we also make everything in our own lab in Green Bay, Wisconsin. This in itself is exclusively unique, but we are also soon to be the only NSF-305 certified cosmetic line, rendering us the cleanest in the game.
Why is "clean beauty" so important to you?
Because your skin is your largest organ, 60% of what you put on it ends up in your body. I believe you should treat personal care products just as you do the food you eat…so if you care about your health, having truly clean makeup is a must.
What are some of your favorite products in the range?
It depends on the season. Right now, my go-to routine entails: Completely Covered Creme Concealer in Buff, Semi-Matte Powder Foundation in Lucia, Golden Henna Pure Powder Bronzer lightly dusted all over, Pure Powder Blush in Pink Champagne, and su/Stain in On Pointe for a subtle pop of lip color.
Do you follow any daily wellness rituals?
I like to start my day relaxed so, when I wake up, I take at least 10 minutes to meditate. First, I try to be thankful for all of the good, and then I think about what needs to be done for the day. Next, I get active in some kind of way, mixing road biking, yoga and pilates throughout the week. For me, staying active is pivotal for my mental and physical health. Then it's off to work! We try to uphold similar ideals in the office because we all flourish when we're happy and healthy. So step into the Au Naturale headquarters and you'll catch daily motivational mantras and wafts of organic coffee. When I leave the office, I try to spend as much time as I can in nature so if my schedule permits I'll be gardening or hiking.
Is there any type of food philosophy you like to follow?
I've been a vegetarian since age eight! Outside of staying away from meat, I try to avoid processed foods and sugar.
How do you like to perk yourself up/calm yourself down?
Rolling in the organic hay! [laughs]. Just kidding… green apples and pilates. And the occasional self-care night.
How do you source the ingredients for your products?
Carefully. We work hard to ask a lot of questions and work exclusively with people who really know their stuff. Often times we go as far as visiting the very farm where the ingredients are grown.
What causes are important to you?
Where do I start? The Clean Beauty Revolution, obviously. It was a passion [of mine] before it was a business and continues to be what we work on the most. We believe the only way to truly change the beauty industry is to formally change the legislation ruling it. But I'm also passionate about environmentalism in every form. Part of why we're located in WI is so that we can help lend to the collective voice advocating for sustainability in a place that really needs it. And of course, empowering women and younger generations is and always will be my mission both personally and via the company. Every woman should be confident and raised to believe that she can do everything.
Who or are your biggest influences?
Jane Goodall. I met her when I was working for [House of Representatives member] Patrick Kennedy in D.C. as an intern in college, and she put my hands in her hands and told me I was capable of anything — it truly ignited something in me. I think about how she is a normal person who persisted in chasing her dreams and, in doing so, has done such tremendous things for animals, the environment and education. Another? Eleanor Roosevelt, because she is a strong woman who influenced policy and empowered so many. She was also the reason my grandfather came to the States as one of the first Fulbright scholars, so, if it wasn't for her, I wouldn't exist!
What else inspires your work?
I've always been inspired by Elsa Schiaparelli. She's totally unique and far too overlooked for what she gave to the world of fashion. Her creative design, bold artistic language and her [personal] story have always driven me to expand my creative horizons.
Do you have an ethos or mantra that you live by?
Of course! They sound cheesy, but here we go: Treat people as you'd like to be treated and WWJD (What would Jane [Goodall] Do?).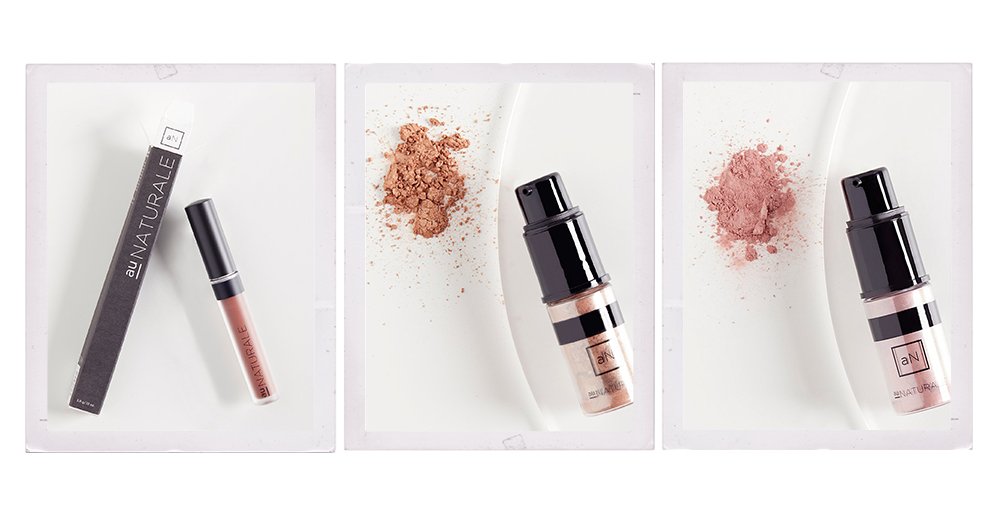 + Check out the full line of Au Naturale products here!